Aberdeen is home to one of the UK's most distinguished universities, the University of Aberdeen. It has over 15,000 students from over 120 countries.
According to the Daily Record, Aberdeen is the most affordable city to live in. Your expenses as a student would come to an average of £700 per month, excluding your rent and university fees.
Now, these costs can vary depending on your lifestyle, location, accommodations, etc.
For more personalized information, use our cost of living calculator to estimate your desired area's average cost of living.
And, finding affordable, safe, and secure student accommodation in Aberdeen is easy peasy. There are so many options to choose one that suits your budget. Some of the best street areas for students to live in Aberdeen are George Street, Causewayend, Mealmarket St., etc.
Before we list the details of the cost of living in Aberdeen, let's summarize its cost.
| | |
| --- | --- |
| Expenses | Cost (Average) |
| Average Tuition Fees | £15,000 – £30,000 / Year |
| Accommodation | £279 – £800 / Month |
| Local Transport | £153 / Month |
Costs of Tuition Fees
The cost of your tuition fees will depend upon the type of course and university you choose to study.
| | |
| --- | --- |
| Undergraduate Tuition Fee | Post-Graduate Tuition Fee |
| £15,000 to £25,000 / Year | £16,000 to £30,000 / Year |
Student Accommodation Costs in Aberdeen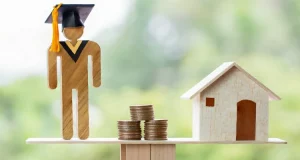 Student accommodation in Aberdeen is affordable and all places to see the city. There are three types of accommodation you can find in Aberdeen, and you can find and book the ones that are closest to your university.
1. Student Housing
It means off-campus accommodation. If you are looking for some private accommodation with secure, safe, and flexible living. There is a wide range of en-suites & studios to choose from with modern amenities & all utilities included.
Most of the accommodations are at a distance of 1-2 miles. While the ones outside of the city center are only 3-4 miles.
| | |
| --- | --- |
| Student Housing | Price |
| Ensuite/ Studio | £279 – £363 / Month |
2. Private Apartment
If you like your freedom, and space and want to stay away from university halls, there are plenty of options out there! You can find a safe, secure, and affordable private apartment that you can rent alone or share with flatmates.
| | |
| --- | --- |
| Apartment | Price |
| Private | £467 – £550 / Month |
3. University Halls
University Halls are usually on-campus accommodations. You can find many types of rooms at UH. There are some that provide modern amenities and are inclusive of utility bills. It all depends on you where and where you study and choose to stay!
| | |
| --- | --- |
| University Hall | Price |
| Ensuite/ Studio | £400 – £800 / Month |
[ Read Also: Top 5 Student Accommodations in Aberdeen ]
Food
The cost of meals outside the home will depend and vary upon where you eat and what you eat. If you eat one meal, it will cost £15, while a cup of coffee or a can of Coke will cost £2.
Utility Bills
If you decide to stay and take a room in student housing, then your rent is inclusive of utility bills. While some Uni Halls too provide a few inclusive utility bills.
Transportation
Buses and trains are the two main modes of transportation in Aberdeen. If you travel by bus daily, it's best to get a monthly bus pass. For instance, a daily bus pass will cost £3, while a monthly pass will cost £135.
Entertainment
Aberdeen is a fun and vibrant city full of students. After a week of tirelessly studying and slogging in university, most students look forward to weekend nights. The nightlife in Aberdeen is amazing because this place has been awarded many times for being a safe city. If you want to party and let loose, there are a number of clubs and pubs.
How to enjoy student life without any expenses?
Aberdeen Beach
This is one of the favorite places where the locals go and spend their leisure time. You can always head out here if you want to chill by the beach. It is near the city center. The best part is it's got free public toilets and amazing amenities. Carry a binocular with you!
Museums
There are some beautiful museums to understand and learn about the history of the city. To name a few, there are Maritime Museums and Tolbooth Museums.
Nature Area
This is one of Scotland's oldest bridges. You can go take a scenic walk from alongside the bridge and see some beautiful swans, seals, and heron bathing in the river. It's a serene beauty and you will find cute, old cottages nearby taking you off city life for w while.
Aberdeen Art Gallery
This gallery has some of the UK's finest works of art and collections. It houses some of the best artworks of artists, including Henry Raeburn, William Hogarth, Joshua Reynolds, and Claude Monet. Free admission.
Crathie Kirk
This place was closed to the public once upon a time but is now open to all to visit. The royals used to attend church while staying at Balmoral. It has been a religious place of worship since the 9th century, from Queen Victoria to all the royal families.
Few tips on living on a budget:
Use only monthly bus cards, it's cheaper.
As for discount cards wherever you go, shops, buses, malls, etc.
Cook meals at home, groceries cheaper than eating outside.
Try to get a part-time job and save money when you can.
Find affordable and shared accommodation to save on rent.
Good luck with your stay and enjoy Aberdeen!
Other Articles