The United Kingdom is one of the countries offering the best academic standards. It is home to some of the top universities in the world.
Is Manchester affordable for students?
Manchester is one of the most affordable cities in the UK. It is a student hub as it offers one of the best students' lives with opportunities and experiences.
What's the cost of living in Manchester?
Apart from exciting student life, the main attraction to this city is its cost of living. Manchester is 32% lower in living cost than London and other Western countries.
For an international student, the cost of living is approximately £700 /month. But, this can vary depending upon your lifestyle, accommodation, and other expenses.
For more personalized information, use our cost of living calculator to estimate your desired area's average cost of living.
Before we list the details of the cost of living in Manchester, let's summarize its cost.
| | |
| --- | --- |
| Expenses | Cost (Average) |
| Average Tuition Fees | £15,000 – £30,000 / Year |
| Accommodation | £350 – £900 / Month |
| Transportation | £98 / Month |
What is the cost of studying in Manchester?
Manchester is home to many top universities. And tuition fees vary from one university to another. So, while planning to study at any of the universities in Manchester, consider the tuition fees as part of your cost of living and know your budget.
| | |
| --- | --- |
| Tuition Undergraduation Fee | Tuition Undergraduate Fee |
| £15,000 – £25,000 / Year | £16,000 – £30,000 / Year |
What is the cost of staying in Manchester?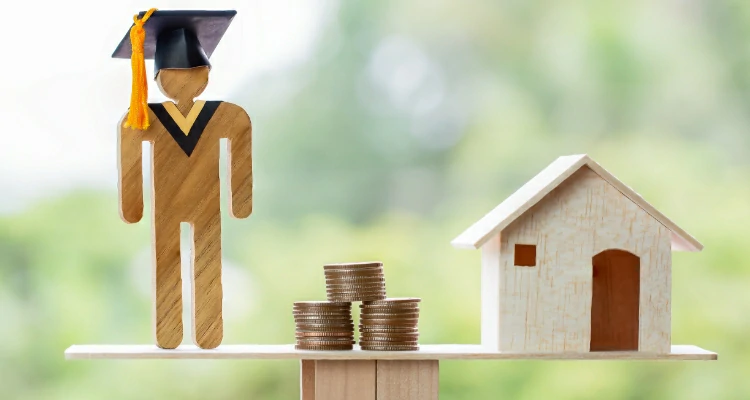 The cost of accommodation depends on a few factors. It depends upon the accommodation type, provider, amenities, and distance from your university. The starting rate weekly for a single room is £101, and prices vary accordingly. Three types of student accommodation available in Manchester are listed below. We've given brief info on each for your understanding and wise choice on selecting the suitable accommodation.
1. Student Housing
Student housing, also known as PBSA, is privately owned. It is built to the student's needs regarding facilities and comfort. They are a modern type of housing that caters to providing room for students in Manchester. The rooms are fully furnished and come with the best amenities.
Most of the student accommodations in Manchester are at a distance of under 3 miles. While the ones outside of the city center are upto 20 miles.
| | |
| --- | --- |
| Student Housing | Price |
| Ensuite/ Studio | £359 – £601 / Month |
2. Private Apartment
Private apartment is becoming a popular choice among students. The landlords own them and offer spacious living spaces. Students can take up the whole space or share it with friends. It may be located near the campus and a bit further from the campus building. The apartments come fully furnished with modern amenities.
| | |
| --- | --- |
| Apartment | Price |
| Private | £693 – £938 / Month |
3. University Halls
University halls are residence halls in the campus buildings. They include a bed, table & chair, shared bathroom, kitchen and communal spaces. Freshers prefer them as they provide a support system to students in many ways. However, they are limited in options and come with few amenities.
| | |
| --- | --- |
| University Hall | Price |
| Ensuite/ Studio | £400 – £900 / Month |
[Read Also: Top 5 Student Accommodations in Manchester]
What is the cost of eating out in Manchester?
Food is an integral part of your cost of living. It can be expensive if you do regular takeout, but it can be affordable if you cook your meals. Eating out is expensive and will increase your expenditure. It will cost around £15 at an expensive restaurant, £6 or less for fast food, and £3 for coffee or soda.
How much are utility bills in Manchester?
The cost of your bills depends upon the type of accommodation you stay. Some include utility bills under rent, while others do not. Water, energy, and broadband costs can reach £67 a month, depending on your usage.
How to quickly get around Manchester?
Manchester is the second-largest city in the UK. It has plenty of public transportation linking and connecting every inch and corner of the city. Using local transport regularly would cost around £2.50, while a monthly pass would cost £75. So, on average, the monthly cost of transportation in Manchester will be £100.
Fun and Leisure
Manchester is a vibrant city. It is a city filled with young hearts and mixed cultures. As a student, you would want to socialise and make new friends. There are plenty of places for you to visit and get away from your university life for the weekend. On average, you will spend £30 or more monthly.
Miscellaneous
Miscellaneous expenditure includes a lot of things. Expenses can vary depending on your lifestyle and the location of the place. You can save money on these things if you make use of the tools around you. For instance, if your university allows you to print documents, etc., it can help cut down on your budget. Printing costs a lot of money.
[Read Also: Popular Student-Friendly Areas to Stay in Manchester]
How can you save money?
Manchester is an affordable city, no doubt! But, you still need to get niffy and look for ways to budget your life and save money. We thought of laying down a few handy tips to help you with the costs of living in Manchester. And here's how you can do it:
Budgeting is the foundation for saving money
If you want to live a balanced and fun life in Manchester, start with your budget. It might sound hard at first and be a difficult routine to follow. But it helps in the long run. There are many budgeting apps to help you, or you can simply jot down your expenses in your notebook.
Travel Smart
Make use of the public transportation available in Manchester. For instance, invest in a monthly ticket rather than a daily ticket. It will save you money. Another way to save money is to find accommodation close to your university.
Cooking meals at home
The money you spend on one meal can get you a lot of food from the grocery store. You can stock up on groceries at home; this way, you have a budget for your monthly groceries. But when you eat outside, you can never keep track of your budget.
The cost of living in Manchester is affordable if you know how to live within your means! Be mindful of your spending; the key is to budget and plan before you spend. We hope you follow our tips and have a fulfilling student life experience in Manchester.
Ready to start your student life in London? Have you looked for accommodation yet? Find your perfect student accommodation London today. Don't Miss Out, Book Now!
Other Articles