Career counselling is something every person, who is passionate about his/her career, needs it at some point of time. Career counselling not only benefits students (and parents) but also working professionals who think there's something better out there for them.
Serving as a huge upgrade to traditional face-to-face counselling, online counselling has been gaining momentum in recent years. Better convenience, wide accessibility, and wider options (career counsellors with niche domain expertise) are just some of its merits. Moreover, during this ongoing coronavirus pandemic, virtual/online counselling sessions are way better.
Whether you have decided or planning to take career counselling, your mind has definitely stumbled on questions like what are its benefits, the charges, and is it even worth it? To answer just that and help you make wiser decisions were going to cover everything you have questions/doubt about.
At Stoodnt, we have been into online career guidance and study abroad consulting since 2017 (end of 2016).
How does Stoodnt's 1-on-1 Online Counselling Session work?
Convenience and credibility are always appreciated that where Stoodnt's One-on-One Online Counselling Sessions comes in.
The Stoodnt's counselling page allows you to view the profiles of counsellors and quick details about them like their background, education & work history. You can sort counsellors in any way as follows for ease of choice:
Subject matter expertise (Business, MBBS, Engineering, Biotech, Liberal Arts)
Education level (Subject guidance, UG, MS, Job guidance)
Test Preparation (GRE, GMAT, SAT)
Destination Country
Language (yes, we do have counsellors who are more than happy to speak other regional languages)
Admission Consulting Type (Ivy, Top 25, Top 100 or Top 250 World Universities)
Pricing
Any profile that you find particularly interesting, you can click on it to get more info like their biography, specialities & social media handles.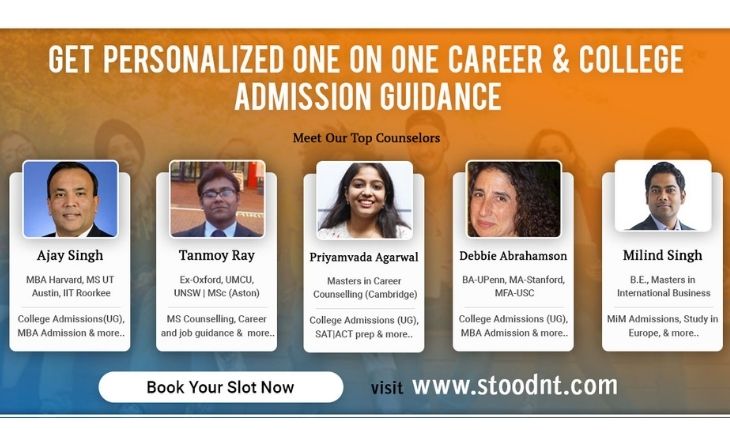 Unlike most other platforms where you have to check availability, wait for a call, or conformation, Student's mechanism is pretty simple and convenient. You can get instant confirmation after you book a counselling session with your preferred counsellor. You can also request a session in case you don't find the available time slots convenient.
More often than not, you need to fill out a form without knowing who you are going to have the session with. With online counselling sessions on Stoodnt, things are transparent from start to finish. You choose the counsellor of your choice after checking the counsellor's profile (education & professional background, previous reviews, etc.).
Isn't the process so simple?
How 1-on-1 Counselling Sessions help you?
1-on-1 Sessions help you solve all your doubts you have right from career discovery to job guidance and study abroad planning to offer reviews (reviewing the best option after receiving multiple admits).
When Shall You Opt For Counselling?
Career Roadmap Guidance / Career Planning
Choosing a career is a big decision; both students and parents find it difficult to choose the right career and mostly are unsure even after the decision. Not just that it is possible that students or parents aren't even aware of all the career options that involve the student's interests and better utilize his/her skills.
A career counselling session can help you better deal with, understand, and contribute to your process of making a decision.
Study Abroad
If anyone is considering higher studies abroad, counselling or admissions consulting is extremely critical.
Study abroad is a big step that requires a lot of research and the right planning. Right from finding a country that has expertise in your domain, choosing universities to enrol in, and all the financial planning that comes with it Stoodnt has you covered.
Of course, you can get things done by doing research on the internet. However, personalized guidance from an expert can help you to get there faster. For instance, if you are planning to study in Germany after 12th, things can be very overwhelming if you work alone.
Along with that, many students choose admission consulting (premium application review services) to help them with profiling, admission strategy, and the documentation that comes with it.
Targeting Top Universities
When you are eyeing top universities (the highly selective ones with single-digit acceptance rates), working with an independent admissions consultant is a good option.
However, services like end-to-end college admissions guidance range from INR 10K – 40K (for MS) and INR 50K – 5 Lacs (UG & MBA). How can someone be sure to invest such a big amount to sign up for services without knowing or meeting the counsellor?
After all, apart from the credibility and expertise of the counsellor, the understanding (rapport) with the counsellor or consultant is also critical. Hence, it's only wise to have a look at the teaser/trailer before you invest in the full movie.
Job Guidance / Career Change
Job guidance, something not many are aware of but everyone needs it. Whether you want to be better at your current career or want to completely change your domain, Stoodnt can help you with upskilling, building your resume & LinkedIn profile, networking, and personal branding.
Be it any step of your career, Stoodnt is here to help you succeed.
Is Online Career Counselling worth it?
Well, who better to answer that than people who've availed of our services?
Pranav Khanna who is a parent from Mumbai says "The session was very informative. The queries were answered. Tanmoy also went beyond the stipulated time we signed up for. I would recommend these sessions to others as the detailed guidance given by Tanmoy was very much helpful for my daughter."
Avichal Gupta who is a Student from Delhi mentions "I found the session very useful for choosing the universities I want to apply to. I also found the advice and insights very useful for the research that needs to be conducted to decide what I want to ultimately specialize in. I also found your suggestion to do online courses related to what I want to do in the future very helpful as well. "
Amey Divekar an aspirant from Bangalore took up Career Counselling & Study Abroad Consulting, has to say "With regards to the session, it was very informative. What I also liked was that you took into account my current skill set, my future aspirations, and also funding-related requirements for recommending the institutes. I would certainly recommend it for any MBA/MS aspirant."
Final Thoughts…
I hope all the above information and reviews answer all your questions and help you better understand why everyone should have counselling. With that being said, I hope you fly high.
If you need a jumpstart with your study abroad process or have got any career-related doubt, visit this page and use the Promo Code UniLiv25 to get a 25% discount on counselling sessions.
Guest Blog by Stoodnt
Other Articles