There are two types of student loans for Indian students: collateral and non-collateral loans.
Collateral Loan for Study in Canada
A collateral loan is a loan given to students based on the collateral provided to the bank. To apply for this loan, the student has to show collateral as a security equal to the loan amount.
The collateral is lent through:
Tangible assets: property, flats, lands, or any establishment
Intangible assets: government bonds, insurance, or fixed deposits
Processing time: It takes up to 20 days to process the loan
Non-Collateral Loan in Canada
The non-collateral loan is given to students based on a co-applicants income and CIBIL score. To apply for a loan, students do not need to pledge a security.
There has to be a co-signer or a co-applicant as a form of security to sanction the loan.
The co-applicant needs to show their proof of income and produce papers on the same.
There are a few eligibility criteria that need to be produced by the students and the co-applicant.
Processing time: It takes up to 7-10 days to process the loan
How to get a student loan to study in Canada?
Applying for and sanctioning a loan is a lengthy process. Here are a few guidelines to help you through:
Get started 5-7 months before you start your study.
Calculate the tuition fee for the course you want to pursue.
Get the offer letter or acceptance letter from the institute. Here are the SOP Tips for Admission in Canada.
Our loan service experts will guide you through and give you a comparison of the banks.
When you've met the criteria, and made your final decision, it is time to fill out the form.
Read through the clause and apply for the loan.
What are the kind of expenses covered under a student loan?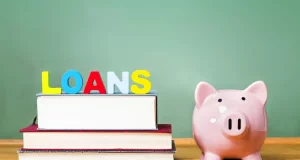 Once the bank validates your loan agreement, they will issue a document. Some banks will pay the tuition fees to the Canadian university while some banks may not pay for it. You can spend the amount on your cost of living in Canada for rent, tuition fees, food, books, etc.
Eligibility requirements for processing a student loan
Students should be 18 years of age; if below 18 years, they will need their parents' consent.
The course applied for must be a job-oriented one.
Letter of acceptance from a recognized Canadian University for full-time study.
Documents required for student loans in Canada
Letter of acceptance
Identity Proof
Exams Score
Address Proof
Bank Details
Please bear in mind these are a few documents listed. Every bank has its own set of requirements to process the loan. Here's how you can find out more on the Dos and Don'ts to Make that Student Loan Stretch!
List of financial marketplaces for Indian student's education loan
We're listing the financial marketplace and banks that offer education loans to students :
Auxilo
Auxilo is a financial marketplace that provides the fastest loan sanctions to students who want to study in Canada. They provide students with pre-admission loans to help secure university admission. The loans will cover your cost of living expenses- tuition fees, rent, travel, etc.
GyanDhan
GyanDhan is India's first financial education marketplace that aims to help students provide loan assistance. They are partnered with many banks in India.
HDFC Credila
HDFC Credila offers Indian students loans that fund 100% of academic expenses. It covers expenses for international exams too. Students can avail of loans depending on their courses. They offer flexible payment options too.
Other Articles