Student Accommodation Barcelona
21 Places to Stay
Distance from City Center Barcelona
Showing 1 - 12 properties out of 21
Everything about Student Accommodation Barcelona
Barcelona is one of the best places to live for students as it's a city full of life and entertainment. Over 20,000 students come to study in Barcelona yearly and fall in love with its culture and beauty. It's easy to live here as finding student accommodation Barcelona is not a task anymore like it used to be back in the day!
With University Living, you can leave your worries to the experts to assist you in finding a home in any part of Barcelona. You can search and filter out based on your budget, location close to the university, accommodation type and other personal preferences. These accommodations range from luxury to budget-friendly ones, where you can book the one that meets your needs the most! Whether you need accommodation now or even in the later days, we are always here round the clock to provide you with our services.
Barcelona is an expensive city; nevertheless, with the student housing options, the rent is comparatively lower than any other. These student housing in Barcelona have been designed to provide safe, affordable and comfortable living while away from home. You can choose to stay in studios, suites, ensuites, or private or shared student accommodation.
The student housing ranges from €629/month to €1,270/month, including utility bills such as water, electricity, heating, security, cooling, wi-fi, etc. So, you save a lot of money on this type of accommodation!
Top Demanded Student Accommodation in Barcelona
With so many options for cheap student accommodation in Barcelona, make sure you check in for safe, secure housing so that you can thrive personally and academically. These are the main types of student accommodation listed below for your reference. We have briefly described each of them, along with the amenities provided.
Student Housing: It is an off-campus accommodation located in a prime location near universities, making it convenient to travel to classes. Student housing is a place where you can stay, make friends, and live privately on your own. Or if you want to live in a shared student room in Barcelona, you can do that too! The choice is upon your comfort and preferences. Each room is fully furnished with a bed, table & chair, lamp, bathroom, window, etc.
Private Apartment: The private student apartment in Barcelona is the perfect choice if you want more freedom and independent living. You can choose a one-bedroom apartment, or if you want to share it with friends, there's also an option for two-bedroom, three-bedroom apartments and so on. They are fully furnished and equipped with modern amenities like a study room, laundry, game room, gym room, swimming pool, fully-fitted kitchenette and many others listed on our website.
University Halls: University halls, on the other hand, differ from private student accommodation in Barcelona. They are on-campus accommodations suitable if you want to stay within or close to campus. However, be mindful that they offer basic facilities and services with no privacy.
About Barcelona
Barcelona ranks 31st in QS Best Student Cities 2023 based on the desirability, appealing student city, mixed students and others. It is also home to two of the most prestigious universities, namely The University of Barcelona and Universitat Autónoma de Barcelona, which ranks in the top 200 of the QS World University Rankings® 2023.
Barcelona offers students the most lively and friendly environment because of its climate, beaches, culture, food and party scene. In the summer, you can have fun on the two golden beaches in the city center. And, in winter, you can enjoy the ski resorts in the Pyrenees, a few hours away from the center.
Facts about Barcelona
Barcelona has 9 UNESCO Heritage sites
Barcelona has artificial beaches
Barcelona is known as the "Best Beach City"
Barcelona has been an art center since the 1800s
The fans owned FC Barcelona
Finest 5 Areas For Students to Live in Barcelona
Gracia:
It is a lively neighborhood with a communal feel among residents from all walks of life. The street is filled with artwork, making it an artistic city heaven. There is good and affordable student housing here, with public transportation well connected to the rest of the town.
l'Eixample
It is one of the most spacious and organized districts in Barcelona and a very friendly neighborhood in the heart of the city, making it well-connected and accessible to travel and explore social amenities. There are many universities in this area and budget-friendly student apartments.
El Poblenou
El Poblenou is an upcoming and coolest area in Barcelona. With many universities in the area, students love it here! And also, due to the low rent, less crowded and closely located metro. There's a lot of art and cultural scenes with a lot of street food to indulge in!
La Maternitat i Sant Ramon
It is a popular student area as it is a university neighborhood. There's a growing community of students and working professionals in the area. You will find many private rooms in this area and at reasonable rates close to many universities.
Ciutat Vella
It is one of the most appealing neighborhoods for Erasmus students. The district still holds its old charms as the oldest area, with many Gothic quarters lining the streets. It lies on the coastal edge, so your student housing will be close to several beaches.
Ideal cost of living in Barcelona
The cost of living in Barcelona is approx €781 per month. Your tuition fees will not be included in this cost; on average, university fees will come to around €3,000-€6,000 annually for an undergraduate course, whereas for a postgraduate course you can spend anything between €4,000-€9,000 per year. The living expenses will consist of rent, food, transportation and others. The expenses will also differ and vary depending on your lifestyle.
The cost of food in Barcelona will depend on your eating and spending habits. Eating food outside will cost more than cooking meals at home.
Best travel transportation services in Barcelona
Public transportation like buses and trams are the best way to travel around the city. You have the option to have the opportunity of travelling by taxis, which feature electric, hybrid and gas vehicles. If you have a bike, Barcelona is a bike-friendly city, too.
Buses: The buses are a cheap and efficient way of travelling, operating over 100 routes and connecting the city with other metropolitan areas. There are different types of travel cards: a T-casual will cost €11.35 a T-Familiar will cost €10 and a single ticket will cost €2.40.
Trams: It is the fastest and most comfortable way of traveling to shopping areas, residential zones, etc. Barcelona has two tram lines and is available on six routes You can use the same travel card for trams within the city.
Best universities in Barcelona
Universitat de Barcelona
Universitat de Barcelona is a public research university founded in 1450. The university ranks # =164 in QS World University Rankings. There are over 63,000 students in the university, with 15 5 consisting of international students from 122 countries. It is also one of the oldest universities in Catalonia and the biggest in Spain, with 16 centers and 6 main campuses spread in the city.
Universitat Autònoma de Barcelona
It is a public university founded in 1968 and excels in research and teaching quality. The university ranks # =149 in QS World University Rankings. The university has 100 UG and 500 PG programs and Graduate diplomas with 57 departments.
Universitat Pompeu Fabra (Barcelona)
It is a public university that's young as it was founded in 1990. They are more modern in teaching and cover aspects of change and making a difference through knowledge. It excels in research and ranks # =310 in the QS World University Rankings. It offers activities for 8 disciples across 3 campuses in Barcelona.
Universitat politècnica de catalunya · barcelonatech (upc)
It is a public institution in Barcelona founded in 1971, ranking # 354 in QS World University Rankings. It offers 66 UG, 81 PG and 45 PhD programs specialized in areas of Engineering, Architecture. Applied Science and Technology
Universitat Ramon Llull
Universitat Ramon Llull is a private university founded in 1990. It was named after the famous philosopher and writer Ramon Llull and later formed by many colleges. The university ranks # 621-630 in QS World University Rankings and has over 2,823 international students worldwide.
Let us find your perfect home!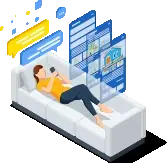 Search - Compare - Relax
Choose from 1.5 Mn 100% verified student rooms near the university & compare between the best options.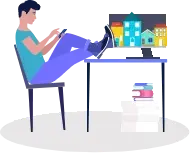 Easy Peasy
Instantly book the room in a matter of minutes. Save your time for more important things (Netflix).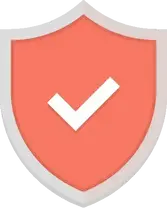 Price Match Guarantee
We keep our promises. Grab the best offers along with the lowest price promise.
Terms & Conditions
Frequently Asked Questions
Check out these answers to common questions and go to
Help Centre for more details.
Q. What is the best way to book student accommodation in Barcelona?

A. If you are looking for student accommodation options in Barcelona, then you can visit the University Living website. On our website, you will find a wide range of student accommodations that match your needs and preferences. From student-shared apartments to shared studio rooms, they have it all.
Q. Is there any ideal time to book your accommodation in Barcelona?

A. It is said that you should book your accommodation as soon as possible to get the best deals and offers. Therefore you should book your accommodation once you get your offer from your university and you finalize everything.
Q. Do I get options while choosing my accommodation in Barcelona?

A. Yes, you will get a lot of options according to your choice while you are choosing accommodation in Barcelona such as whether you need studios or shared apartments or accommodation near the university.
Q. What if I want to take a look at my room?

A. At University Living we provide assistance to students who want to take a look at their room. Through our virtual tour, students can get an overview of the accommodation they will be staying in.
Q. What are the factors that I should before booking my accommodation?

A. The factors you should consider before booking any accommodation is what are the amenities and utilities available in the property, prices, safety, and security, and nearby areas.
Q. What are the student-friendly areas in Barcelona?

A. For students who are looking for safe and luxurious accommodation in Barcelona, there are a few amazing neighborhoods which are Eixample, Gràcia, Sants, Les Corts
Q. What are some of the best places to explore in Barcelona?

A. The city has various tourist places which have attracted a lot of attention. The best places to explore in the city during free time are the Picasso Museum, Mercado de La Boqueria, and Casa Vicens Gaudi.
Q. Is my accommodation within walking distance from my university?

A. Yes, the accommodation will be within walking distance from the university.
Q. What are the payment options for my accommodation?

A. You can choose to pay your monthly rent in convenient installments or pay it all upfront using your credit/debit card or via a bank transfer. While making your reservation, remember to include the required security deposit and application costs.
Q. What are the utilities included in my accommodation?

A. The utilities included in the student accommodation in Barcelona are Electricity, Internet, Heating and Water. However, you need to check the property overview as it depends from property to property.
Q. Are there any short-term stays available in Barcelona?

A. Student accommodations in Barcelona do provide short-term stays for the students. For this, you need to review the booking policies carefully while making any reservations.
Q. What is the cost of living in Barcelona?

A. One can expect monthly expenses between,€900 to €1200 encompassing various aspects such as city rent, food, transportation, medical costs, and other miscellaneous expenditures in Barcelona.
Q. Do I get any discounts or offers for my accommodation?

A. Yes, you can get any discounts or offers on accommodations which varies from property to property and the time you book your accommodation. You can book your accommodation through University Living website to get splendid discounts or offers.
Q. Can I pay my rent in installments?

A. Yes, there might be option to pay your rent in installments but before making any payments do check the booking policies carefully.
Q. How much would I need to pay upfront to secure my place in student accommodation in Barcelona?

A. Students might be expected to pay a certain upfront amount to secure their accommodation in Barcelona which varies, depending on the property. Before making any booking, it is recommended to read all the terms and conditions.
Q. Can my friends and I book the same accommodation?

A. Yes, you and your friend can book the same accommodation but make sure to read all the terms and conditions and check the availability in the property before making any kind of booking.
Q. Will my student accommodation in Barcelona be fully furnished?

A. Yes, the student accommodations in Barcelona are usually fully furnished and come with all the necessary amenities. However, the furnishings can vary depending on the type of accommodations you choose to stay in.
Q. What are the transportation options in Barcelona for students?

A. Students who want to travel around the city can take public transport available in the city. There are various transport options available which are Metro, Tram, Taxi, AVE, and RENFE.
Q. What are the part-time working rules in Barcelona?

A. The maximum time allowed is 20 hours per week. Non-EU students go through more formalities for part-time work as compared to their EU counterparts. You can only take up part-time work for the duration of your visa.
Q. Is Barcelona a safe city for students?

A. Yes, Barcelona is a safe city for students who want to study in the city. Everywhere you go, the streets will be packed with tourists and other study-abroad students enjoying their time outside and exploring the area.
Q. What are the top universities in Barcelona?

A. The city is known for its prestigious universities which are The University of Barcelona, Pompeu Fabra University, Abat Oliba CEU University, The Open University of Catalonia.