London is the capital city of England and the United Kingdom. It is a city of opportunities for students from all over the world. Millions of students come to study at the world's best universities in the UK.
London is no doubt expensive.
Students miss the opportunities to study in London on the thought of accommodation. However, many affordable student accommodations in London are easy to find.
When it comes to libraries, too, London has the largest public library network in the world.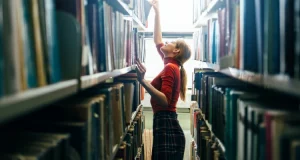 If you are a student and looking to borrow a book, here are the top 10 libraries to visit in London:
1. The London Library
The London library is in St. James Square, London. It has more than 1 million items. Every year, it acquires approximately 8,000 books and periodicals. Membership is open to all on an annual subscription basis, with 7,000 registered members.
2. The British Library
Located in St Pancras, London, and Boston Spa, Yorkshire, and known as the UK's national library. It is also one of the largest libraries in the world. It has more than 170 to 200 million items. It is open to everyone and provides readers pass with a permanent address.
3. The Guildhall Library
The Guildhall Library in Aldermanbury, London, is the historical heart of this city. It is a public reference library and holds a wide range of sources and collections of books. Since it is a public library, it is open to all with a visitation booking.
4. Wellcome Library
It is a free public library located on Euston Road in London, England. It has a comprehensive range of sources and book collections for everyone. The library is open to all, but one needs membership to access material or borrow a book.
5. National Art Library
Known as the major reference library in London, the Victoria and Albert Museum. It holds a comprehensive collection of books on the arts and serves as a training library for the public. It is open to all, but if one needs a book, one should ask the permission of the library staff.
6. National Central Library
The National Central Library, which is in London, was founded as the Central Library for Students and houses a wide collection of books and resources. It is open to anyone with a student ID or a library membership card.
7. Bishopsgate Library
Located within the premises of the Bishopsgate Institute, London. It has a collection of 50,000 books and other forms of content covering the history of London. It is open to the public and has private study spaces too. It is free to enter.
8. Kensington Central Library
It is a reference and central book-borrowing library in Kensington, London. One can find a good collection of books here. Their online library gives access to newspapers and magazines from across the world. It is free and open to the public.
9. The BFI Reuben Library
The BFI Reuben Library is a free public library in Southbank Centre, London. It has a collection of resources in the world of film and television. It is open to all and free of charge.
10. Barbican Library
A public lending library in Silk St., Barbican, London houses a collection of books, recordings, music, and other materials. It also has facilities for music students to practice piano. It is open to the public, and anyone interested is free to join the library.
We hope we've listed the libraries that will be handy for your research and studies. If we've missed out, drop a comment, and we will add it to our list. Happy reading!