Referred to as 'Silicon Valley of Europe', Ireland is now turning into an education hub for Indian students. With several tech companies based out of that country, several Indians are heading there to study and work.
"Initially, I wanted to study in the US but heard it is a struggle to get a work visa there. I chose Ireland because it offers many opportunities and it is comparatively easier to get a work visa," said Rakesh Reddy Badam, who is studying in Dublin Business School. He says the process to get a permanent residency is a lot easier and much shorter as well.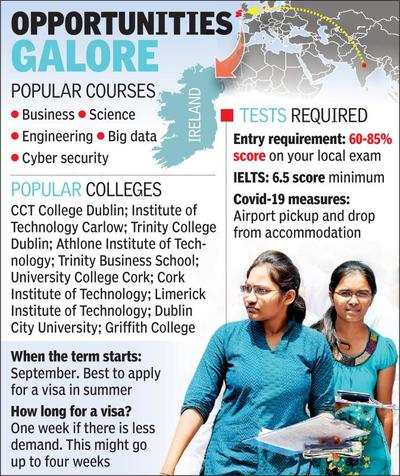 For Akhil Pullineni, who is pursuing an MBA in marketing, studying in an English-speaking country is a priority. "Besides the UK, Ireland is the only European country where you do not have to pick up an additional language. This makes getting part-time work easier," he said.
A one-year PG course costs between 12,500-22,000 euros (Rs 11.16 lakh and Rs 19.6 lakh) depending on the programme, says Barry O'Driscoll, senior adviser, Education in Ireland. He said students are advised to keep living costs of at least 10,000 euros (Rs 8.9 lakh) per year.
While the number of Indians coming to Ireland is still comparatively less compared to other countries, O'Driscoll says the numbers are increasing. "Students are realising that Ireland is a good study destination when compared to traditional alternatives," he said. The country offers a two-year stay back visa as well. Among the most popular courses sought are those related to business, science and engineering. "Big data and cybersecurity are also hugely popular," said O'Driscoll.
Other Articles