Student Accommodation Melbourne
136 Places to Stay
Distance from City Center Melbourne
Showing 1 - 12 properties out of 136
Everything about Student Accommodation Melbourne
Melbourne is all about the perfect blend of rich cultural history and new-age trends. As the sun goes down, the city comes to life with a vivacious dining scene as well as events and exhibitions. Explore the bustling laneways, trendy neighbourhoods, and sophisticated dining to get a taste of life over here.
This coastal metropolis added with a cosmopolitan ambiance attracts thousands of visitors each year. It is quite easy to see why the city is referred to as Australia's cultural capital. The beauty of the town is enhanced by the striking galleries, museums, gardens, and nature reserves. The places to visit here are not short of a wonder in themselves and the city has left the world amazed.
Melbourne has around 5 million inhabitants. It is the second largest city in Australia after Sydney in the state of Victoria. Melbourne is often ranked as one of the world's best places to live. As one of the most popular student destinations in Australia, if you want to study in this city, you need to start your search for student accommodation Melbourne early so you can snag the room you want easily. University Living offers a wide range of student housing in Melbourne as per your budget and preferences.
Student Life in Melbourne
The city has been recognized as Australia's best student city and one of the best student cities across the globe. The city has a vibrant culture and offers different opportunities and many hotspots including some of the most beautiful beaches. As an international student, you are guaranteed to have excitement and fun in Melbourne.
Student life here is quite dynamic. If you love premium dining, then Red Spice Road, Lake House, and Chin Chin are among some of the finest restaurants in Melbourne as they offer sumptuous food. The Toff in Town and Price Bandroomise are some of the best go-to bars if you want to chill by trying some amazing drinks and live music. If you are feeling to let it go and grooving to the latest beats, then Revolver Upstairs and Radar are the perfect places for you. They are cities with some famous clubs and guarantee a nightlife filled with fun, joy, and a spirit of excitement for your student life.
If you feel like getting a dose of culture, then go to Federation Square which is a trendy art and culture venue on the edge of the Melbourne central business district. It is situated next to the Flinders Street station, so it is easily accessible through public transport. If you like animals or good food, you don't want to miss the Royal Melbourne Show, an annual agricultural event held every September at the Melbourne showground, northwest of the city center. It's a great chance to get up close to the farm animals and enjoy some amazing food and drink.
Cost of Student Living in Melbourne
The general living expense in Melbourne as declared by the Australian Government is around $21,041 per year. As per a study, generally, international students spend between $20,000 and $27,000 per year. However, it differs and depends on the living arrangements and personal choices of each student. The private accommodation in Melbourne includes deluxe as well as affordable en-suites, studio apartments as well as shared housing that are all-inclusive of utility bills. The student accommodation rates vary as per the accommodation. There are different kinds of housing choices for the students available who are on the lookout for short-term tenancies in Melbourne.
What makes Melbourne Unique?
Melbourne is recognized as the cultural capital of Australia. There is everything for everyone. From great food to museums and galleries, you can come across many places of interest. If you love to try different cuisines, be it Greek, Indian, or Spanish, this place is a paradise.
1. Best Locations in Melbourne
Albert Road South Melbourne: South Melbourne is rated as one of the finest suburbs when it comes to choosing the right student accommodation. With its beautiful streets, stunning apartments, and proximity to major attractions, Albert Road has been a constant student favorite for years. This place is hardly a five-minute walk to the RMIT University city campus.
Mackenzie Street: Living at Mackenzie Street offers easy access to the top Melbourne universities such as RMIT, University of Melbourne, Monash University, and more. You will also be living super close to the Melbourne CBD and also adjoining the suburb of Carlton Gardens and World Heritage Buildings. You can different kinds of student apartments in Melbourne easily.
Collins Street: Live in the heart of Melbourne through Collins Street. Recognized as the 'Paris End' since the 1950s because there are different heritage buildings that add a Parisian vibe.
Porter Street: Situated right behind Chapel Street, one of the most fashionable places in the city that also comes with trendy eateries and stores, life will never get dull at Porter Street. Here you can find some of Melbourne's best shops, boutiques, restaurants, cafes, and much more only a few minutes away.
A'Beckett Street: When living close to Melbourne CBD and not being in the center of the constant hustle-bustle of the center at A'Beckett Street. This neighborhood is close to everything in the city and thus looking for student rooms in Melbourne here is a good decision.
2. Attractions of Melbourne
Royal Botanic Gardens: Half a million plants are spread across 40 hectares of green land- the Royal Botanic gardens. It is one of the most popular tourist attractions over here. You can enjoy Aboriginal heritage walks through the rich history of indigenous Australians.
Melbourne Cricket Ground: It is the birthplace of test cricket, the main stadium of the 1956 Olympics, the home of Australian football, a heritage that dates back to 1853, and has a capacity of 100,000. The curator of the stadium organizes a daily 75-minute tour to take visitors on a trip down memory lane.
Penguin Parade: While the sun melts at the beaches in Melbourne, you can see a wide number of little penguins flock across the sandy beaches. It is one of the lifetime experiences to treasure.
Melbourne Zoo: This zoo hosts an Orangutan sanctuary that houses animals in its treetops. Here you can find 320 species of animals in the state of art facilities, frog shows, and a famous trail of the elephant making the whole experience quite amazing.
Queen Victoria Market: One of the most lively streets in Australia, Queen Victoria Street attracts a lot of people. You can come across clothing, art, toys, and other interesting things over here. This place hosts a grand food hall. They also organize different weekend events like night marts, concerts, and street tours.
Famous Universities
University of Melbourne: The University of Melbourne was founded in the year 1853. About 50,000 student study here and around 12,000 of whom are from outside Australia. The international students come from 130 different countries. You can find numerous on-campus and off-campus student housing in Melbourne that fits your needs the most.
Monash University: Monash University is one of the Melbourne universities which made the Times Higher Education's Top 100 list of universities of the world. The university was established in the year 1958 and as of now, there are around 70,000 on-campus students.
La Trobe University: La Trobe University was established in the year 1964 making it the third oldest university in the state of Victoria. Nowadays, there are around 39,000 students enrolled at the university. Victoria University was established as an educational institution already in the year 1916.
Other renowned universities in Melbourne include:
Let us find your perfect home!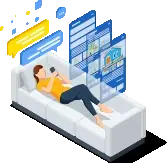 Search - Compare - Relax
Choose from 1.5 Mn 100% verified student rooms near the university & compare between the best options.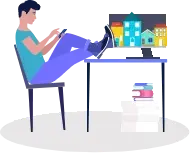 Easy Peasy
Instantly book the room in a matter of minutes. Save your time for more important things (Netflix).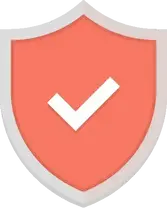 Price Match Guarantee
We keep our promises. Grab the best offers along with the lowest price promise.
Terms & Conditions
Frequently Asked Questions
Check out these answers to common questions and go to
Help Centre for more details.
Q. When should you start looking for student accommodations in Melbourne?

A. Looking and booking for your student accommodation in Melbourne early will help alleviate stress for last-minute booking. The best time to start looking for accommodation is six months before you start your academic journey. You can also look for accommodation earlier than the stipulated time.
Q. How can I book student accommodations in Melbourne?

A. If you are searching for student accommodation and want to find one, University Living is a great platform to find a safe and secure home. If you are all set for the university you will be studying at, start discovering the properties close to your university.
Q. What are the different types of student accommodations available in Melbourne?

A. There is on-campus accommodation, which is called University Halls, and off-campus accommodation, which includes student housing and private apartments. Off-campus accommodation is ideal for students who want more privacy, facilities, and services.
Q. Is Melbourne affordable for a student?

A. The cost of living in Melbourne will come around A$1,750 /month excluding tuition fees. The expenses will depend upon one's lifestyle. The housing cost will range from A$1,000 - A$2,200 /month, while food will come to about A$300 /month and transportation cost will be on average A$212 /month. For more personalized information, use our cost of living calculator to estimate your desired area's average cost of living.
Q. What are some of the best student locations in Melbourne?

A. The best student areas depend on proximity, lifestyle, budget, and personal preferences. Some of the most popular choices among students in Melbourne for students are Melbourne CBD, South Yarra, Carlton, Parkville, Brunswick, Caulfield, and Fitzroy for the close location to universities and easy access to social amenities.
Q. How much is rent in Melbourne for students?

A. The cost of rent in Melbourne will be around A$250-A$500 /week. A single space in a shared house will cost around A$250-A$300 /week while a room in a shared accommodation will come to about A$300-A$350 /week. Taking a shared apartment can help save money on your cost of living in the city.
Q. What are some of the famous universities in Melbourne?

A. Based on the QS World University Rankings, these are the top 7 universities in Melbourne University of Melbourne, Monash University, RMIT University (Royal Melbourne Institute of Technology), Deakin University, Swinburne University of Technology, La Trobe University, Victoria University, Australian Catholic University,
Q. Is it cheaper to live on or off campus in Melbourne?

A. On-campus housing is comparatively a little more expensive, particularly in private universities. In addition, you have to pay extra for planned meals, amenities, utilities, and other services. As for off-campus student housing, it is affordable and comes with an inclusive package of amenities and services.
Q. Can I pay the rent for my student rooms in installments?

A. Yes, of course, it can be paid monthly, half-yearly, or annually by debit/credit or bank transfer. There's a bond equal to four-week rent that must be paid beforehand to secure your student housing in Melbourne.
Q. Can I get discounts for student accommodation in Melbourne?

A. If you book your student accommodation early, you can take leverage of the discounts available on offers for a period of time. There's no guaranteed timing about discounts, but yes, one thing is for sure: early booking comes with great deals as compared to booking last minute and spending double the budget on the same price.
Q. What are the most popular areas to live in Melbourne?

A. ‍Some of the most popular areas to live in Melbourne are CBD, Carlton, St. Kilda, Richmond, Hawthorn, South Yarra, Caulfield, Brunswick, Fitzroy, Clayton, and Seaholme.
Q. Can I stay in the same accommodation during my placement year?

A. It's up to you and what's convenient for you. There's no hard and fast rule that you have to stick to one accommodation during your placement. Many 2nd and 3rd-year students move out and find their own student accommodation, which is available in many locations in and around Melbourne.
Q. Are short-term rentals allowed in Melbourne?

A. Yes, short-term rentals are allowed in Melbourne for anyone seeking weekly or monthly rentals. You will find a wide range of accommodation that provides accommodation as per your stay request. The accommodations are fully furnished and equipped with modern amenities to provide comfort and a pleasant stay.
Q. Can I share a room with my friend in student accommodation Melbourne?

A. Yes, for sure! What better way to save money and live with a friend to keep you company while you are away from home! Shared accommodation comes with a big room space, bathroom, and living room, so there's no issue of feeling cramped up. It can help enhance your living as a student.
Q. What is the best way to get around Melbourne?

A. One of the best and cheapest ways to travel within Melbourne is by Tram. It operates all throughout the day on multiple routes, and if you are traveling within the CBD, it's considered a free tram zone, which means you can travel for free without using your travel card.
Q. Which type of accommodation options offer the highest level of privacy for students?

A. Student housing provides a wide range of privacy options to live freely and privately. They offer a student private apartment-style where you can opt to take the whole place, or you can opt for studio style where you can have your own room and bathroom. Both come with modern amenities, and usually, utility bills are included in the same.
Q. Is it secure to rent private student housing in Melbourne?

A. Yes, there's no better safe space than renting student housing as they designed keeping the students need in mind. Private housing prioritized safe, secure student living by providing CCTV Secure Door-Entry and 24 24-hour on-call Staff to make the students feel safe.
Q. How do students calculate the rental costs of student accommodation in Melbourne?

A. Using our cost of living calculator, you can get an approximate cost of rent in Melbourne. You can choose your university, and you will get the option of selecting where you would like to live (within the city or the suburbs) and find the kind of housing you prefer to rent, which will give you a round-off figure for the monthly rent.
Q. My rent includes what expenses?

A. Your student accommodation will include a fully furnished bedroom, shared kitchen, and facilitates. It also includes amenities such as Bicycle Storage, Swimming Pool Common Area, Gym, Games Room, Study Room, BBQ, Basketball Court, Garden/Courtyard, Pool Table, Laundry Room, and Utility Bills.
Q. Why is University Living best for booking student accommodation in Melbourne?

A. University Living is one of the best student accommodation booking platforms because you can find a wide range of accommodation that fits your needs and preferences. We have helped and provided students worldwide with the ability to find accommodation at universities to ease their pain in finding a safe and secure home without much paperwork and an easy payment process.